SHOP OUR HOLIDAY FAVOURITES
CHECK OUT OUR GIFT IDEAS

Be the first to know about exclusive offerings,
latest deals and events.
STORE TASTING EVENTS
Saturday Dec 2, 2023 4-7pm
Driftwood Gins
– Parabola Gin
– Contact Gin
Sunday Dec 3, 2023 4-6:30pm
Mark Anthony
– Mission Hill Reserve Pinot Noir
– Mission Hill Reserve Chardonnay
Monday Dec 4, 2023 4-6:30pm
Culmina Estates Wines
– Riesling
– Chardonnay
– Hypothesis
Tuesday Dec 5, 2023 4-6:30pm
Appellation
– Wild Goose Autumn Gold
– Wild Goose Riesling
– Calliope Figure 8
Wednesday Dec 6, 2023 4-6:30pm
Averill Creek
– Charme de l'Ile
– Joue Red
– Joue White
Thursday Dec 7, 2023 4-7pm
Domaine Jean Yves Millaire
– Cabernet Franc Pet Nat
– Loupiot Blanc
– Loupiot Rouge
Friday Dec 8, 2023 4-7pm
Ken Forrester
– Sparklehorse
– Petit Chenin Blanc
– Petit Cabernet Sauvignon
Saturday Dec 9, 2023 4-7pm
Duchess Cocktails
– Cosmopolitan
– Margarita
– Bellini
– Lemon Drop
Sunday Dec 10, 2023 4-6:30pm
Container Brewing
to be determined
Monday Dec 11, 2023 4-6:30pm
Tumbler&Rocks Cocktails Tasting
to be determined
Tuesday Dec 12, 2023 4-6:30pm
Sheringham
– Seaside Gin
– Rhubarb Liqueur
– Chocolate Liqueur
Wednesday Dec 13, 2023 4-6:30pm
Nomad Cider
– Traditional Dry
– Semi-Dry
– Ice Cider
Thursday Dec 14, 2023 4-7pm
Pentâge Winery
– Hiatus White
– Gamay
– Tempranillo
Friday Dec 15, 2023 4-7pm
Dream Wines
– Angeline Vineyards Cab
– Andeluna 1300 Malbec
– Nino Franco Prosecco
Saturday Dec 16, 2023 4-7pm
– Pinon Vouvray
– Canned Lambrusco
– Umani Ronchi Verdicchio
– Umani Ronchi Lacrima di Morro
Sunday Dec 17, 2023 4-6:30pm

– Caves de Lugny Cremant Rose

Monday Dec 18, 2023 4-6:30pm
Piper + Charles Heidsieck
Champagne Tasting!
Tuesday Dec 19, 2023 4-6:30pm
Lake Breeze
– Merlot
– Semillon
– Tempest
Wednesday Dec 20, 2023 4-6:30pm
Joie Farm
– Noble Blend
– PTG
– Rose
Thursday Dec 21, 2023 4-7pm
The Irony Sprits
– Booster Shot
– Aronia Euphoria
– Spiced Limited
Friday Dec 22, 2023 4-7pm
Blue Mountain
– Brut
– Sauvignon Blanc
– Gamay
GIFTING
Choose from our selection of our Choose-Your-Own-Wine gift baskets, cocktail kits, glassware, wine accessories and more.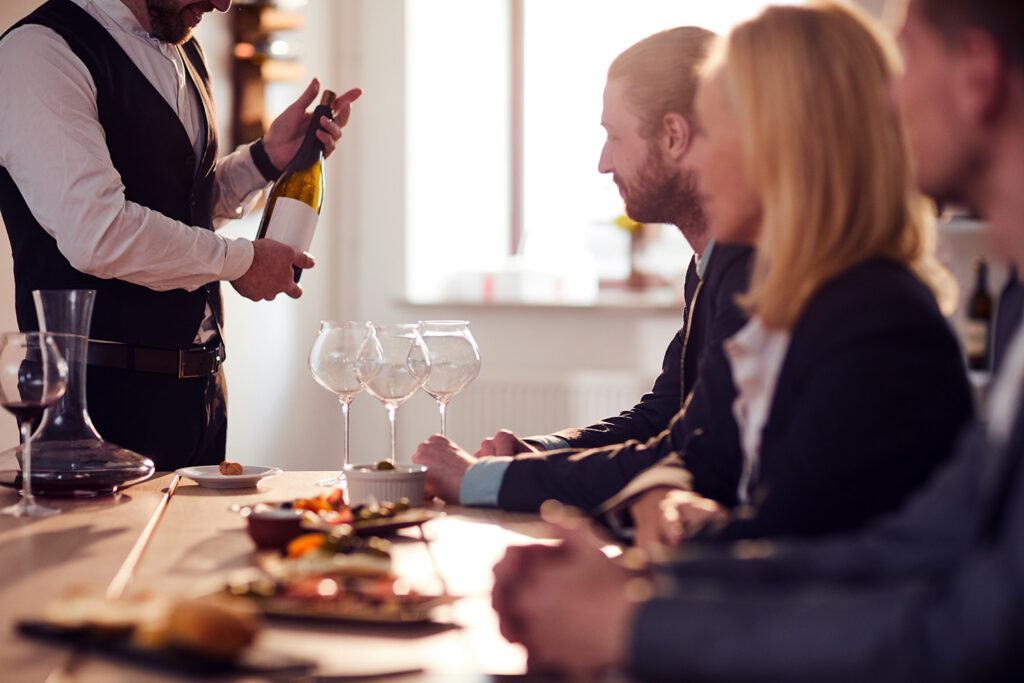 Sommelier Services
Our team of certified sommeliers can help with anything wine-related you can dream up.
CORPORATE GIFTING
Sommelier selections for your gifting at any occasion and quantity. We can arrange gift-wrapping and delivery at any price point.
WEDDING WINE PAIRING
We can assist you with menu pairing, quantities needed, budgeting, and delivery.
PRIVATE SOMMELIER-LED WINE TASTINGS
Book a wine tasting with one of our certified sommeliers. Tastings can be held in-store, or at your home or office. Perfect for parties, corporate team-building and appreciation and wine clubs. All based on your tastes and budget.
PRIVATE CELLAR MANAGEMENT
Guidance for stocking your home cellar with selections to drink now and age at any budget and for any cellar size.
Reach us at winemerchant@suttonplace.com for details.
ABOUT US
The Sutton Place Wine Merchant is situated adjacent to the Sutton Place Hotel on Burrard Street downtown Vancouver. We carry a broad selection of wine, beer, and spirits from all over the world. Join us weekly on Fridays and Saturdays for in-store tastings and watch this website for information about events and wine seminars.
The Sutton Place Wine Merchant is open seven days a week.
Sun-Wed: 11am-7pm
Thurs-Sat: 11am-10pm
Map & Directions: View Larger Map
855 Burrard Street, Vancouver, BC V6Z 2K6
Tel 604.642.2947 Fax 604.642.2741
winemerchant@suttonplace.com